By metro (underground) to and from the airport BCN
Here you will find the most important information about the metro connections El Prat Airport ↔ Barcelona and helpful tips for buying tickets. This will save you time and stress after arrival. 
Barcelona-El Prat Airport has only been connected to Barcelona's modern and well-developed metro network since 2016. Therefore, many older travel guides or websites do not mention this connection.
Which metro line runs from Barcelona-El Prat Airport to the city centre?

Line L9 Sud connects Barcelona city centre with the airport. It has a total of 15 metro stations over a distance of 20 kilometres. If your destination is not directly at one of these stations, you can change to four other lines (L1, L3, L5, L10 Sud) via line L9. This way, you can reach almost all important destinations in Barcelona with just one change. This metro line also takes you directly to the Barcelona Trade Fair (Fira).
Network map with stops & metro lines:
Where is the metro station at the airport?
Both terminals (T1 and T2) at Barcelona-El Prat Airport have their own metro stop. These are well signposted and easy to find.
Metro stop in Terminal 1
In Terminal 1 you will find the stop of the metro line L9 Sud on level 0 with the designation Aeroport T1.
Metro stop at Terminal 2
The stop at Terminal 2 is called Aeroport T2 and is located in front of the terminal building.
Which ticket for the journey from the airport to the city center? – Current ticket prices 2023
ATTENTION: The standard tickets (single ticket, 10-ticket T-Casual) of the Barcelona Metro are NOT valid for a trip to and from the airport! 
For this trip you have to buy an extra ticket (Airport Ticket) at the ticket machine. This costs 5.15 euros (one way) or 10.30 euros for the return journey for all persons over 4 years of age (updated 2023). Children under 4 years of age travel free of charge.
Day pass "Hola Barcelona Travel Card" saves time and money – current prices 2023
For visitors to Barcelona, there is a good alternative to the expensive airport ticket. If you would like to use the local public transport system during your stay in Barcelona, we recommend the day ticket "Hola Barcelona Travel Card".
It is also valid for the airport line L9 Sud of the Barcelona Metro! This saves you 10.30 euros for the "Airport Ticket".
Another advantage of the Hola Barcelona Card: With this card, you can use the metro, city bus (TMB), tram, suburban train (FGC, zone 1), regional train (Rodalies de Catalunya, zone 1) and the Montjuïc funicular unlimitedly for the period of validity.
This day pass is available with a validity period of 2 to 5 days.
Currently, (updated 2023), the Hola Barcelona Travel Card is priced per person:
2 days / 48h validity: €16.40 (€8.20 per day)
3 days / 72h validity: €23.80 (€7.93 per day)
4 days / 96h validity: €31.00 (€7.75 per day)
5 days / 120h validity: €38.20 (€7.64 per day)

Our advice: Buy a day ticket for local transport online in advance
A single card for using the four different transport companies in Barcelona saves time and stress when purchasing tickets. No constant queuing at ticket machines, no handling small change, …
Save yourself time and stress.

Here you can buy the Hola Barcelona Travel Card online

After a flight, you don't have to deal with fare systems and ticket purchase. You have already the right ticket to take the metro from the airport to downtown Barcelona and back.
Hola Barcelona Travel Card or Metro Tickets? We did the math…
What is the cheaper alternative for a weekend trip to Barcelona, for example? Day ticket Hola Barcelona Card or classic single metro tickets?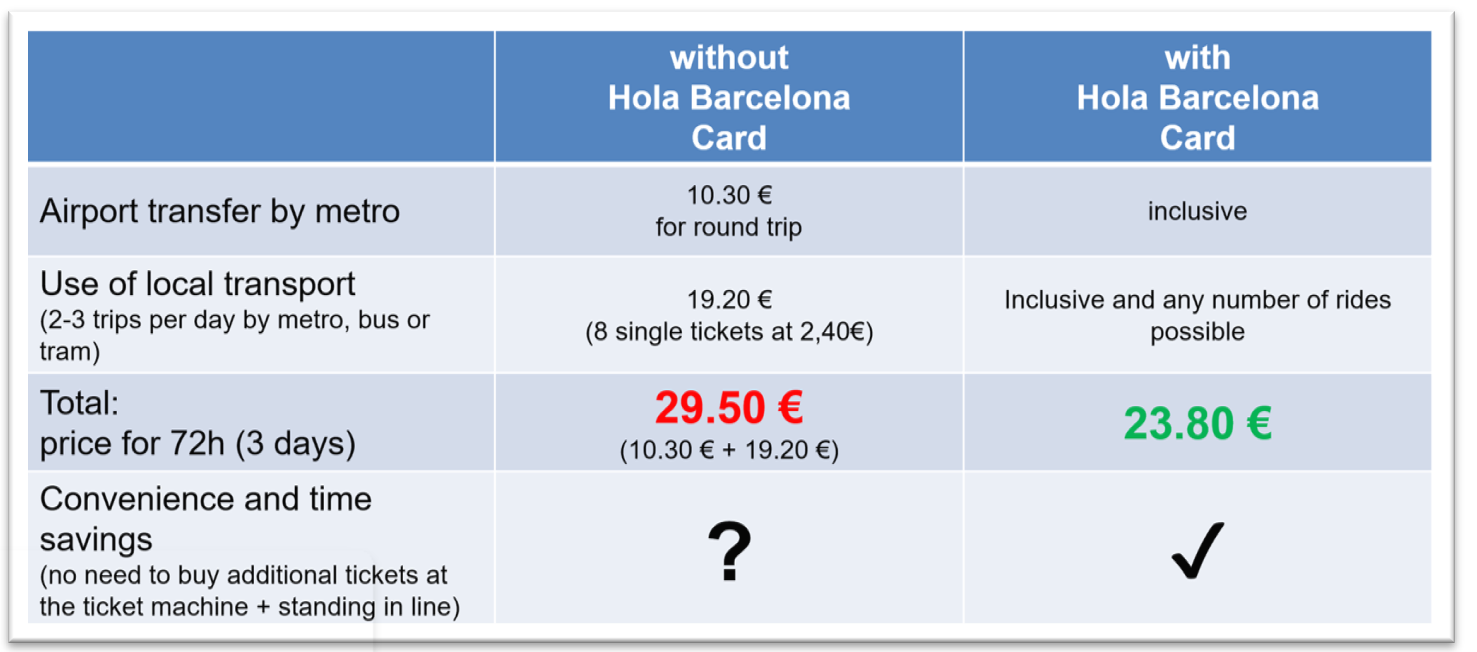 Our conclusion: buying the Hola Barcelona Card is quickly worthwhile
If you take the bus, suburban train, cable car or metro only 2-3 times per day on a 3-day trip in addition to the airport transfer by metro, you will travel much cheaper with the day pass Hoal Barcelona Card. If you use the local transport more often, the savings will of course be even greater.

This is mainly due to the fact that with the Hola Barcelona Travel Card, you can ride the airport line of the metro for free. One-way tickets, 10-trip tickets (T-10, T-Casual) are not valid here.

And we haven't even included the "saved" holiday time that you don't have to spend queuing at ticket machines, buying tickets, etc.

You can find more information about the Hola Barcelona Travel Card here.
One card – many names: "Hola BCN!", "Hola Barcelona" or "Hola Barcelona Travel Card"
Until 2019, the day pass was sold under the name "Hola BCN!". It is now officially called "Hola Barcelona Travel Card", but is also called "Hola Barcelona Card". Apart from the name and the appearance of the card, nothing has changed. As all the names are still in use and familiar, we will use the different names in this Airport Guide.
How long does it take to get from the airport to the city center by metro?
The metro line L9 Sud runs every 7 minutes. This means little waiting time at the metro stops at the airport. The journey time depends on your destination. The metro reaches its final stop, Zona Universitaria, in 32 minutes. If you want to travel further into the city centre (e.g. Plaça de Catalunya), it will take you almost 50 minutes from the airport by changing at the Torrassa stop to the L1 line.
The big advantage of the metro compared to taxis, buses & co: the journey time is much easier to plan and is more constant. The metro is independent of traffic and congestion on the streets. In a city like Barcelona with a lot of traffic, this is a big plus.
What are the Barcelona Metro's operating times?
The metro in Barcelona starts operating at 5 a.m. every day.
Closing time
• during the week (Monday to Thursday): midnight
• Fridays and the eve of a public holiday: 2 am
• Saturdays: continuous operation
• Sundays: midnight
There are special regulations on public holidays/Christmas.
Metro stops on the L9 Sud Airport Line
The L9 Sud line has a total of 15 stations.
• Aeroport T1 (Airport Terminal 1)
• Aeroport T2 (Airport Terminal 2),
• Mas Blue
• Parc Nou
• Centric
• El Prat Estacio
• Les Moreres, Mercabarna
• Parc Logistic
• Fira
• Europe | Fira – connection to L8 with connection to station Espanya – Plaça d'Espanya
• Can Tries | Gornal – transfer possibility to the L10 Sud
• Torrassa – connection to L1 with connections to Catalunya – Barcelona-Catalunya Station and Glòries – Torre Glòries, as well as line 10 Sud
• Collblanc – transfer possibility in L5 and L10 Sud
• University Zone.
Barrier-free / accessibility of the train stations on line 9 Sud
All 15 stations on Metro Line 9 Sud are barrier-free and therefore easily accessible for people with disabilities/mobility impairments. You will find lifts in all stations, so it is easy to access the metro even with a wheelchair, heavy luggage and/or a stroller.
Bus, train, taxi – an alternative to the metro transfer?
Besides the metro, there are other ways to get from the airport to the center of Barcelona.
You can take the train R2 Nord directly from the station "Aeroport" to the city center. Or catch the Aerobús – you can find more information here. Of course, cabs are also available at the airport around the clock.
Map – Barcelona Airport & City Center
Frequently Asked Questions – FAQ 2023